Updated 7/31/2022– I recently watched an episode of "Who Do You Think You Are?" in which actress Allison Janney is tracing her family. In the episode they trace her ancestor, Stephen Hopkins who was caught in a hurricane on the Sea Venture and ended up stranded in Bermuda. The ship's name kept nagging at me. I kept telling my mom, "I know this story or something regarding the Sea Venture." Well, below is the story of my ancestry and the Sea Venture!
The Sea Venture, also known as the Third Supply, was the flag ship for a flotilla of six hundred men (and women and livestock) on six ships and two pinnaces. On the 23rd of July, a hurricane separated the Sea Venture, with it's captain, Christopher Newport from the other ships. The ship started taking on water after four days, and thankfully was able to make it to land on an island; the Bermuda's. All of the passengers, about 140 men and women, landed safely, although the ship was wrecked between two reefs. Allison Janney's ancestor was one of those men.
Ruby Chapman Wescott's line took me back to Jamestowne. (The original colonial spelling for Jamestowne included the "e." That spelling is used here when referring to historic Jamestowne).
To revisit the history of Jamestowne, I'll just give this paragraph:
"In June of 1606, King James I granted a charter to a group of London entrepreneurs, the Virginia Company, to establish an English settlement in the Chesapeake region of North America. In December of that year, 104 settlers sailed from London with Company instructions to build a secure settlement, find gold, and seek a water route to the Pacific. The traditional telling of early Jamestown history portrayed those pioneers as ill-suited for the task. But 20 years of archaeological research at the site of James Fort suggests that Captain Bartholomew Gosnold and many of the artisans, craftsmen, and laborers who accompanied the gentlemen leaders made every effort to build a successful colony. On May 14, 1607, the Virginia Company settlers landed on Jamestown Island to establish an English colony 60 miles from the mouth of the Chesapeake Bay." —- You can read this and more at https://historicjamestowne.org/history/history-of-jamestown/
This leads us to Alice, last name unknown. Alice is my 11th great-grandmother. Alice's first husband was Thomas Pierce. Both were born in England around 1585. They had a daughter named Elizabeth. I need to tell you a little of Thomas' history in order to understand Alice's.
Thomas Pierce was the Sergeant at Arms of the first legislative assembly of Virginia which met on July 30, 1619. The First House of Burgesses by Kate Langley Bosher
Thomas arrived on the "Margaret" which sailed for Virginia.
Source https://www.immigrantships.net/v3/1600v3/margaret16191204.html
Update: 4/27/19- Through my wonderful Isle of Wight Facebook Group, someone was able to provide me with page 545 from the book Virginia Immigrants and Adventurers: A Biographical Dictionary, 1607-1635 by Martha W. McCartney. In it, it states that Thomas was indeed on the "Margaret" on 15 Sep 1619 which set sail for Bristol and
It is assumed that he traveled with his wife Alice and daughter Elizabeth.  Thomas appears to have been a relative of Lt. William Pierce, of the "Sea Venture" (1609), who served under George Yeardley, Captain of the Governor's Company of soldiers.  Williams' daughter, Jane Pierce, was the third wife of John Rolfe (who was also on the "Sea Venture"), you know, the guy who married Pocahontas.
Thomas Pierce established the plantation south of Martin's Hundred along the upper side of the James River. On March 22, 1622, the Indians attacked throughout the colony, then known as the English Colony of Virginia. In history, it is now known as the Indian Massacre of 1622. The colony's tobacco economy led to constant expansion and seizure of Powhatan lands, which ultimately provoked a violent reaction according to Wood, Origins of American Slavery (1997), p. 72.
Thomas Pierce , his wife, child, two other men and a French boy were officially reported as killed at this plantation.
THE LIST OF THOSE MASSACRED – March 22, 1622
​
The following is transcribed from "Colonial Records of Virginia", R.F. Walker, Superintendent Public Printing, Richmond, VA, 1874, Clemmitt & Jones, Printers, pp 38 – 68.
Click here
to download the document.
At Mr. Thomas Pierce his House over against Mulberry Island.
​Master Tho: Pierce,
his Wife,
his Childe,
John Hopkins, (could he be related to Ms. Janney's Stephen?)
John Samon,
A French Boy.
Named by the first colonists for its dense population of wild mulberry trees, Mulberry Island shows up in some of the earliest maps of Virginia as well as the writings of Capt. John Smith.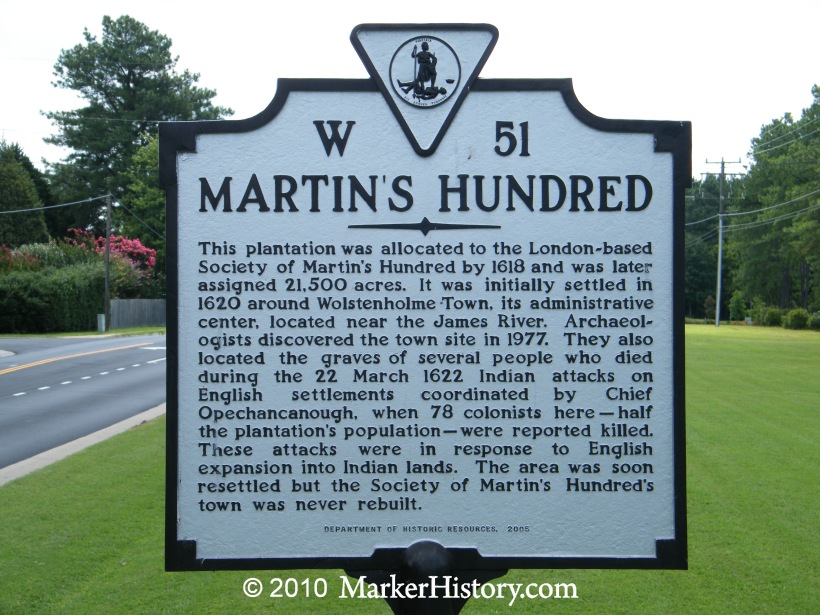 It is not known exactly how, but Alice and her daughter apparently survived the attack and it is thought they were two of the twenty captives that were ransomed from the Indians. The only other of these twenty who have been identified are Mrs. Boyce and Jane Dickenson, both widows of men slain at Martin's Hundred. These captives were held for about ten months.
The following is a paragraph wildly spread on the internet, but has been proven false by many history sites such as Chauco (Chanco) Virginia Indian.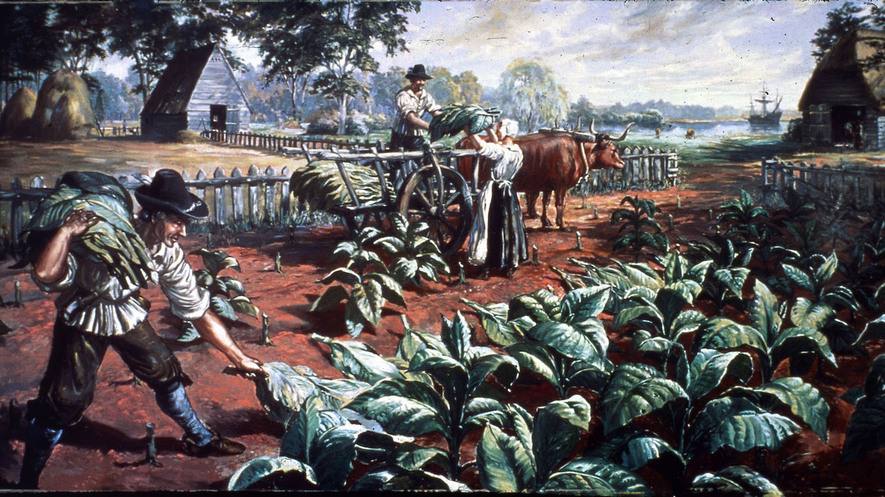 In fact, it is more realistic to believe what is written on Historynet's website:
These female colonists, perhaps 20 in all, were virtually the only captives taken by the Powhatans in the uprising. Few details of their ordeal have survived, and information about their lives is almost nonexistent. In fact, we may never know if they shared the fascinating, if often horrifying, adventures of more well-known Indian captives in American history. It is certain, however, that these women witnessed the violent deaths of neighbors and loved ones before being abducted; that they lived with their enemies while the English ruthlessly attacked Indian villages in retaliation; and that they received no heroes' welcome upon their return to the colony.
No matter how she survived, she did because by October 10, 1624 Alice had married Thomas Bennett, my 11th great-grandfather. Alice Bennett was a witness before the General Court at the trial of John Proctor for cruelty to his servants. She was sworn and examined as to the beating of Elizabeth Abbott, serving maid of Mr Proctors, and stated that she found her by the waterside by Mr Burrow's plantation lying behind a boat wrapped in a rug. Whereupon this examinat, with Her Husband and Richard Richards carryed her and delivered her to her master. Anthony Barham swore that he saw Mr Proctor strike Elias Hinton one of his servants. (VA Mag., 19, p. 389) (Seventeenth Century Isle of Wight Co, VA, by John Bennett Boddie p. 289)
At General Court in October 1624, Elizabeth Pierce chose her father in law (step father), Thomas Bennett, as her guardian. (VA Mag 20, p. 155). She was unmarried then because John Filmer to who she was engaged had just died and left all his property to her. This was the reason for her choosing a guardian. It is probable that this Elizabeth Pierce afterwards married Anthony Barham. (Seventeenth Century Isle of Wight Co, VA, by John Bennett Boddie p. 290)
Alice is again shown in the following records. The name Jackson is from Elizabeth marrying Richard Jackson.
1642: June 10, 1642, George Hardy received a grant of 300 acres on the easternmost side of Lawne's Creek adjacent to Alice Bennett (Seventeenth Century Isle of Wight Co, VA, by John Bennett Boddie p. 293)
1642: 19 Jun 1642, John Stocker patented 200 acres adjoining Mr Hardy's land and the widow Bennett. (Seventeenth Century Isle of Wight Co, VA, by John Bennett Boddie p. 293)
1647: 19 Jul 1647…Alice Bennett to Mary Jackson and Sarah Jackson, the daughters of Richard Jackson…150 acres of land. Alice(X)Bennett
1647: DB A P 4, 19 Jul 1647 Alice Bennett to Mary Jackson & Sarah Jackson, the dtrs of Richard Jackson, 150 Acres land. (to be possessed immediately after my death) , the land & housing on the S/S of the swamp to Mary; the land on the other side to Sarah. Sig: Alice (X) Bennett Wts: Edwd. X Garrett, James Piland. (Isle of Wight Co. VA, Deeds 1647-1719, Court Orders 1693-1695 and Guardian Accounts 1740-1767 abstracts by William Lindsay Hopkins)
From the Jamestowne Society's website are names of "Qualifying Ancestors".
The Richard Bennett above is not our Richard. Thomas Bennett is ours and he is the father of our Richard Bennett (not listed) who is the son of Alice and Thomas and half-brother to Elizabeth.
The internet and genealogical websites are full of misinformation as far as the Richard Bennett's are concerned. Our 10th great-grandfather is the Richard Bennett, Sr. of Isle of Wight, VA. The other Richard Bennett is of Nanesmond County, VA, the Governor of Virginia from 1652-55. The confusion lies in that both of them have father's named Thomas who came from England. The governor is about thirteen years older than our Richard and they are both connected to Jamestowne.
Thomas Bennett was also a member of the House of Burgesses as he represented Mulberry Island in 1632. Burgess Journals 1619-59, pg. xiii.
Records were destroyed in the Civil War so nothing more is known about Thomas except what was found in the will of Anthony Barham, who was one of Elizabeth's husbands. Because of this will, we can trace his descendants.
You can read more about their neighbors and relatives and how they all connect in the Seventeenth Century Isle of Wight County, Virginia: A History of the County … By John Bennett Boddie
Richard Bennett, Jr., my 9th great-grandfather, was born June 1, 1644, in Isle of Wight, Virginia. He married Ann, last name unknown, and they had five children. Again, you can read about all five in the above link.
He made his will on March 3, 1720:
Will of Richard Bennett Jr.
Isle Of Wight County, Virginia
March ye 3rd Day 1720 In the Name of God Amen. Rich'd Bennett in ye upper parish of Isle of Wight County in Virginia being sick & weak in body yet in perfect memory thanks be to God for it Do therefore do make this my Last Will & Testament as followith-first I Commit my soul to God our Heavenly Father trusting to be saved by Jesus Christ our only Saviour and my body on Earth to be Decently Buried & as for my worldly Goods I bestow as followith
I Give and bequeath unto my son Richd Bennett to him & his heirs lawfully begotten of his body two hundred acres of Land & over it being Land where on my Son Richard now lives
I give & bequeath unto my son James with ye other two hundred acres of Land where on he now lives. I lay to him & to his heirs lawfully begotton of his Body forever it is a Coveyance of four hundred acres of Land I bought of Mr John Coffers pattin of Land being fourteen hundred & fifty acres
1 Give & bequeath unto Jane Coffer & her two sons Rob Coffer & John Coffer to them & their heirs Lawfully of their body for ever my plantation and land whereon I now live I lay to them & to their heirs for ever it being part of Land Which was bought formerly of Mr Wm Miles
I Give and bequeath unto Jane Coffer a small trunk & a Gold Ring and a Great Iron pot
I Give & bequeath to Rich Coffer my Long Gun
I Give & bequeath to Magdalen Coffer one Great pewter Dish and one Great Basin
I Give and bequeath to Francis Manggum my Gran Daughter a feather Bed & all ye belongs to it 2
I Give and bequeath unto my Daughter Silvester a Couple of Dishes & a Couple of plates
furthermore I do appoint Jane Coffer & Wm Allen to be my full and whole Exct to pay my Debts & to Receive what is owing to me & when these my Debts being paid ye rest of my Goods within Doores and outDoores to be Equally Divided amongst my Children
Desiring this my trusty friends Jno & James Carter to See this my Last Will & testament fulfilled In Witness here of I sett my hand & Seal Rich'd R Bennett (Seal)
Richard Jr.'s daughter, Ann Bennett, married John Coffer circa 1699, my 8th great grandparents. You can continue this line by reading my previous blog post, The Cofer/Copher Families- Part 2.
Inside the fort at Jamestown, in the cellar seen just below the back wall of a stone foundation, archaeologists found a pendant that dates to the Virginia colony's earliest years. A seventeenth-century church tower and the 1907 tercentenary obelisk are also seen. ~website at history.org
As always, if you see anything amiss, let me know. Until next time…
For more information, click on the items below.
If you need research assistance, do not hesitate to contact me.
Your Family Tree Research Specialist
Research Specialist